OPUSalbums.com has been rather quiet over the past few weeks. Myy wife and I had four fantastic weeks in Australia and New Zealand. We'e back!
Armed with an new camera - a Sony Alpha 700, which was a great deal as Sony was clearing the floor for the new 850 - we had a great time capturing the scenes of Sydney, Melbourne, the Great Ocean Road including the "12" Apostles at sunrise and sunset, the Grampians, Mount Cook and the Glaciers on NZ's South Island, the West Coast, Marlborough Sound, Cook Strait, Rotorua ending at the top of Auckland's Sky Tower - plus friends and relations - all good stuff for several photo books - each along a different subject and laid out for the viewer's pleasure. I'll tell you how they worked out later.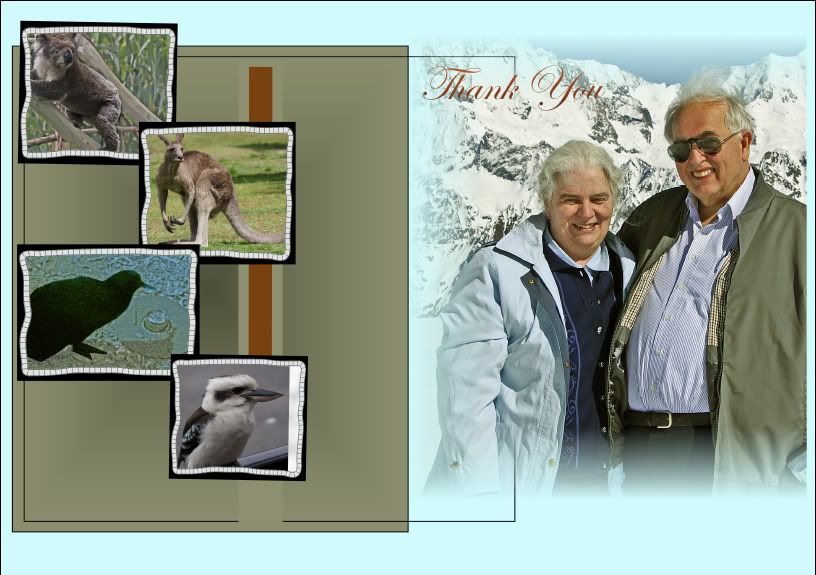 First of course we have had to thank a lot of people - that was easy laying out on DG Foto Art and our greeting card stock - in this case Olmec Satin. Here is the layout of the card. You'll need t be doing some Christmas cards soon.
David and Ernest have been doing a great job whist my wife and I were away - but things were not too easy especially with the post strike. We cals had a couple of hiccoughs with PayPal and our telephone system, so If there are any outstanding items please contact us immediately - we would hate to think that our service was not up to par.
We've got a lot going now - Unibind UniCalendars are now shipping, and we are being used increasingly for photo sized - and panoramic photo paper. Plus albums, roll and office sized paper and of course our range of layout software. And we are preparing a number of new releases at SWPP in January.
Please visit us - e-mail or call if you need any supplies - apart from ink - we have it all for print-your-own.
Best wishes
Daniel Roberts
www.opusalbums.com
Email
daniel@opusalbums.com
PS - We've streamlined the
paper side
of our site. With all the types and size configurations along with our
alternatives programme
ther is a lot there. We hope you will find it easier to sue.
And we have another time-limited coupon. Enter code
PB3530
and you will get a £5 (inc VAT) reduction on orders over £25.